Asia Sport
Video Freiburg vs Dortmund German Championship 2021 today
Striker Erling Haaland could not do much in the Freiburg vs Dortmund match in the second round of the Bundesliga 2021/22. The 1-2 defeat made the Yellow – Black team show that they still do not have the necessary stability.
Freiburg vs Dortmund goals (2-1)
Freiburg: Grifo (6′), Sallai (53′)
Dortmund: Keitel (59′ own goal)
Having to receive defeat against Bayern Munich in the German Super Cup in the middle of the week, Dortmund certainly wants to win when returning to the Bundesliga arena. The opponent of the black and yellow shirt team is Freiburg, the team ranked in 10th place last season.
However, Reus and his comrades soon had to receive cold water. Right in the 6th minute, Grifo scored a free-kick from a distance of about 30m to open the scoring for Freiburg. In this situation, the ball went tight, hitting the edge of the post into the net, so goalkeeper Kobel had no chance to stop.
Suddenly receiving a goal, Dortmund immediately rushed to find an equalizer. In the 11th minute, Bellingham had a solo situation right in front of Freiburg's penalty area, but the young English player's shot failed to beat goalkeeper Flekken. 3 minutes later, it was Haaland's turn to have a chance but the striker's shot was not strong enough to make it difficult for the home team's goal.
For the rest of the first half, both Freiburg and Dortmund had only unclear opportunities. Entering the second half, Freiburg once again had an early goal. Roland Sallai volleyed at close range to defeat goalkeeper Kobel. Pushed into a difficult position, Dortmund had no choice but to push the squad to attack.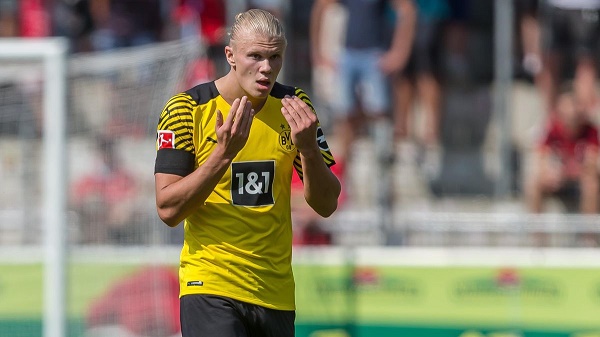 Haaland is empty, Dortmund is empty-handed
It wasn't until the 59th minute that luck smiled at the visitors. From Schlotterbeck's annoying cross, midfielder Yannik Keitel fumbled for an own goal.
It seemed that the equalizer would help Dortmund play well, but the subsequent attacking situations of the visitors were too sharp. Haaland on a bad day also could not launch dangerous shots as usual.
Unable to score more goals in the opponent's net, Dortmund accepted to lose 1-2, temporarily falling to 5th place in the Bundesliga rankings.
Freiburg vs Dortmund lineup
Freiburg: Flekken; Schmid, Lienhart, Schlotterbeck, Gunter; Keitel (Eggestein 86′), Hoefler, Sallai (Schade 71′), Grifo (Kuebler 84′), Jeong Woo-Jeong (Haberer 71′), Hoeler (Demirovic 71′)
Dortmund: Kobel; Schulz (Guerreiro 38′), Akanji, Witsel (Hummels 79′), Passlack (Can 79′); Dahoud, Bellingham, Reyna (Brandt 70′), Reus, Malen (Moukoko 79′), Haaland


Source link: https://bongda24h.vn/video/ket-qua-freiburg-vs-dortmund-vdqg-duc-2021-hom-nay-189-292047.html