Asia Sport
Olivier Giroud came to AC Milan not to play
To survive in this life, you must be a doer. And Olivier Giroud is a man who can work, anywhere, in any team.
Not overwhelmed like the way Romelu Lukaku returned to Chelsea with a record contract of up to 115 million euros, in the opposite direction Olivier Giroud quietly said goodbye to Stamford Bridge after 3 seasons with AC Milan. for only 2 million euros. But expensive does not mean Lukaku will succeed at Chelsea and cheap does not mean Giroud will fail at Milan. Because the transfer market always brings the most surprises.
From the little-known pitches in Ligue 2, winning Ligue 1 with Montpellier, to 6 brilliant years at Arsenal with 3 FA Cup crowns, before becoming the World Cup champion with the French team , won the Champions League with Chelsea, .. in any situation, as a main striker or just a substitute, Giroud still knows how to make people remember his name.
But not everyone thinks like that. If there is a vote for the most "underrated" striker, then Giroud deserves to step on the podium to receive the award. Someone once said, "If you judge a fish by its ability to climb a tree, it will live its whole life thinking it is stupid."
Giroud himself is well aware of this when speaking to the media: "No one is praised by everyone. You know it's part of football, part of the game. Maybe I'm underrated sometimes but what matters is the parameters. For a striker, this is very important. As long as I work effectively for my club, for the national team shirt and always make my family proud. The rest I will admit."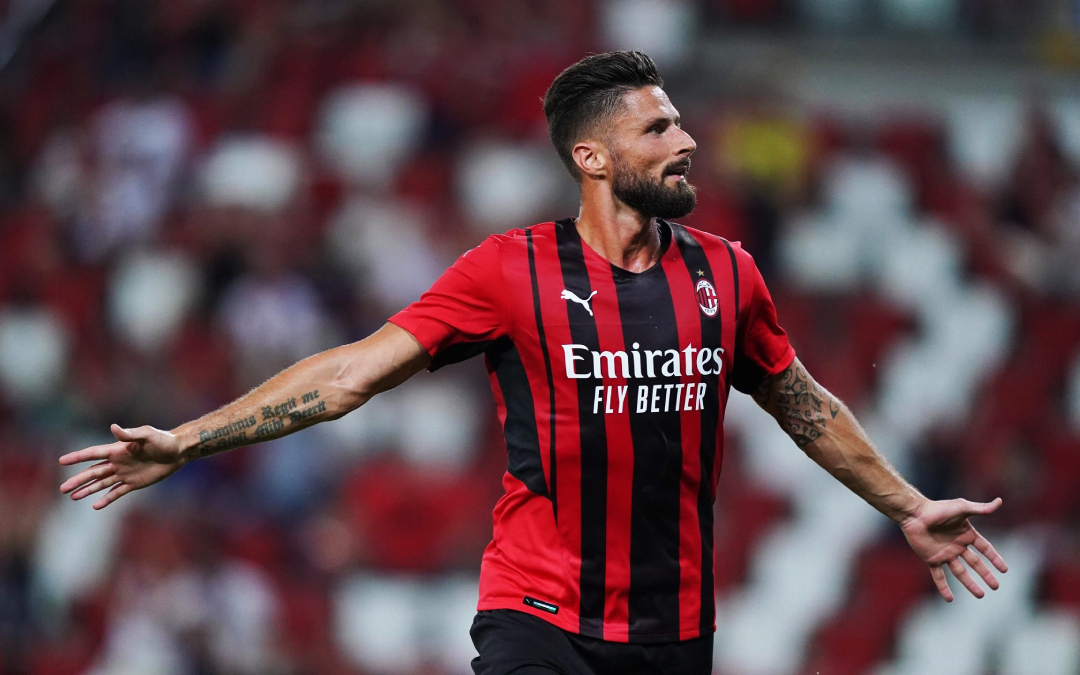 Olivier Giroud arrived at AC Milan with clear ambitions and goals. Photo: Getty Images
Yes, a lot of people used to laugh at the French player as a wooden-footed striker who was lucky in the victory of Les Bleus' coronation in Russia in 2018, but when looking at the record of 550 professional matches, scoring a total of 221 goals and 81 assists, it is hard to deny his successful playing career so far.
Now, at the age of 34, having stepped on the other side of the slope of his career, he joined AC Milan – the once giant of Italian football, but is also struggling on the journey to find the glory. lost in the past. Here, Giroud will put on the legendary No. 9 shirt of Filippo Inzaghi and have to compete with another living legend – Zlatan Ibrahimovic. The question being asked by the Milanistas now is what improvement will Giroud bring to Stefano Pioli's army? And will the competition for positions between two typical strikers bring success to Milan?
Basically, Milan's return to the Champions League makes the appearance of Giroud even more necessary, bringing both squad depth and experience in attack. Last season, despite only playing for 256 minutes in this arena, Giroud "pocketed" up to 6 goals (with an efficiency of 43 minutes / goal), making a great contribution to the campaign to win the Champions League for the second time in this season. Chelsea history.
In Milan at the moment, except for the old general Ibrahimovic, in the hands of Stefano Pioli there is no other real striker. Rafael Leao has the quality to develop but the Portuguese player is too young and needs more time to improve many things. As for Ante Rebic, the Croatian is simply unfit to kick in, at least in a 4-2-3-1 formation.
Talking about the competition between Ibrahimovic and Giroud, we can easily see many similarities in the play of these two strikers. They all possess the ideal height, outstanding physical foundation and are always the destination of long passes from teammates.
However, there are many differences between the two. While the Swedish striker is often more flexible in moving outside the penalty area, from receiving the ball, supporting the ball process with superior footwork skills, Giroud's range of activities is limited. more inside the penalty area, although both contribute quite a bit in creating links when attacking. Although their overall accuracy is comparable, Ibrahimovic's support for teammates through passes to the opponent's third area is far more impressive than Giroud's.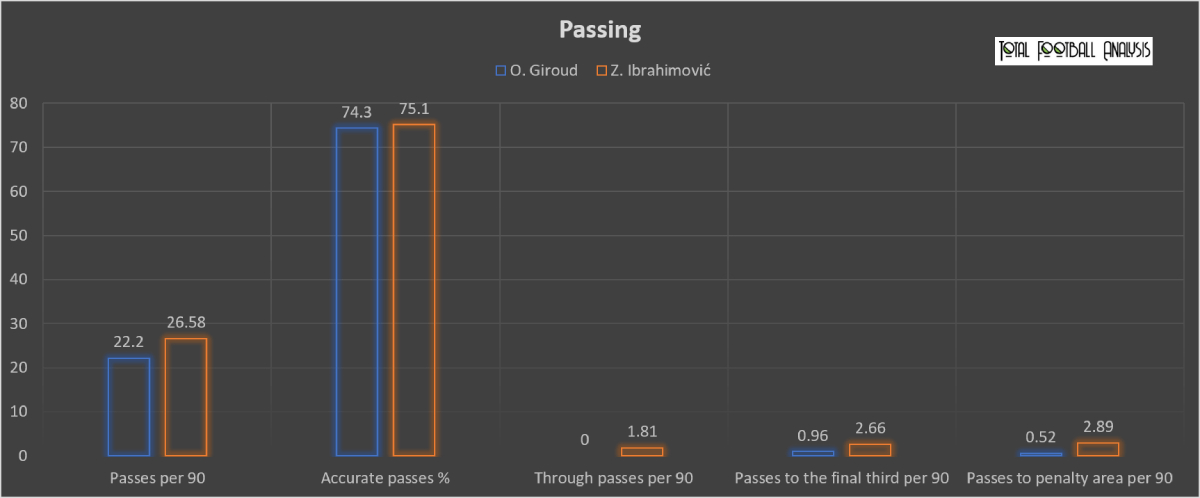 Statistics on passing of Giroud and Ibrahimovic in the 2020/2021 season. Photo: Total Football Analysis
Looking at their attacking data, it's not surprising that Ibrahimovic is more efficient in front of goal with 4.42 shots per 90 minutes, compared to Giroud's 2.81. However, the 34-year-old is the more efficient striker with an average of 0.74 goals, which is pretty close to his expected goal stat of 0.85. Meanwhile, Ibrahimovic's expected goal stat is higher (xG 1.07), but he averages only 0.68 goals per 90 minutes.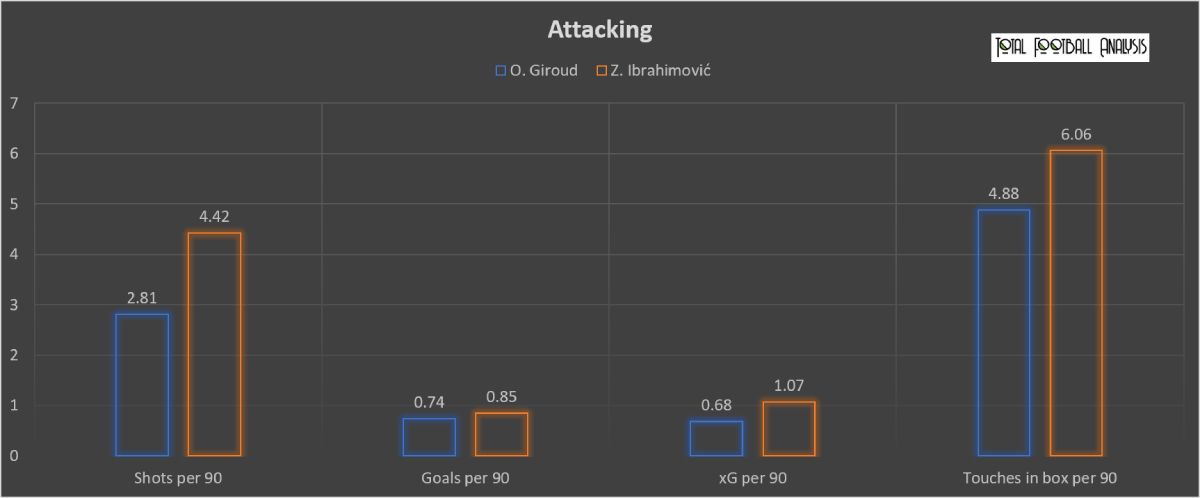 Statistics on shots of Giroud and Ibrahimovic in the 2020/2021 season. Photo: Total Football Analysis
By comparing their defensive data, we can see that Giroud made a better defensive contribution than his new teammate. The former Chelsea striker was more involved in defensive disputes and was also more active in contesting the ball. On the other hand, the statistics of the two's air combat ability are quite similar: 7.88 and 7.77. This is very important in both attack and defence. With a height of 1.92m (Giroud) and 1.95m (Ibrahimovic), aerial combat is one of their best qualities.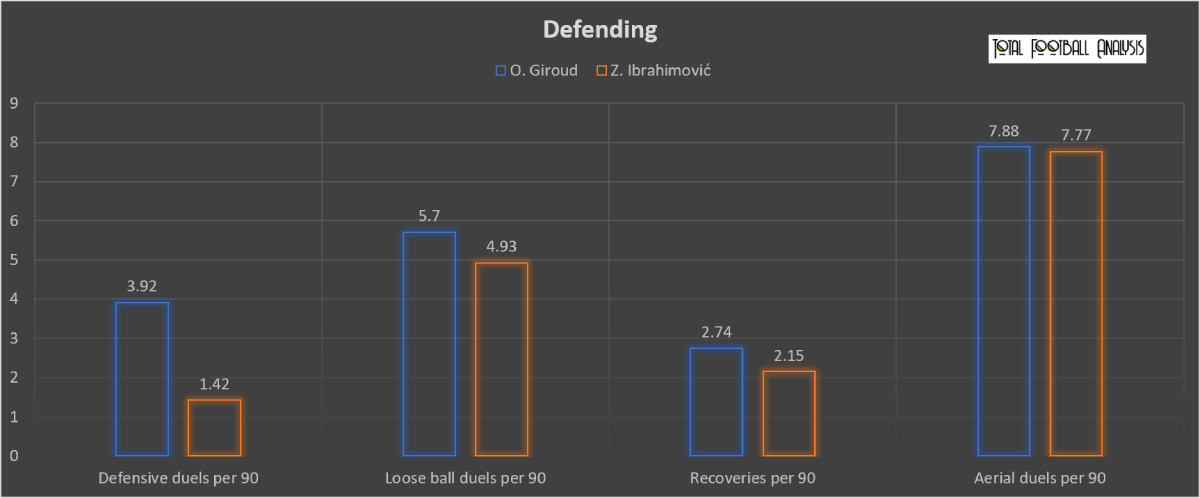 Statistics on the defensive ability of Giroud and Ibrahimovic in the 2020/2021 season. Photo: Total Football Analysis
Last season, Milan played quite successfully in Serie A with a 4-2-3-1 formation. Ibrahimovic's impressive scoring form and Hakan Calhanoglu's brilliance in the role of conductor helped the red and black shirt team win the final runner-up. Now, the Turkish-born midfielder has landed at rival Inter Milan, forcing coach Stefano Pioli to make tactical adjustments when he does not have a suitable factor to replace.
In a number of pre-season friendlies, Stefano Pioli is trying to test a 4-4-2 formation, to make up for the lack of a creative "number 10" like Hakan Calhanoglu. If successful, that test could open the door for both Ibrahimovic and Giroud to have a chance to play together, rather than compete for a spot in the starting line-up.
Essentially, the 4-4-2 gives more options to approach the opponent's goal, especially in the pure English cross-attacks of the past. Specifically, Milan will play with a wide active striker responsible for connecting and a striker capable of taking advantage of opportunities when the opponent's defense appears gaps. Then Ibrahimovic is suitable for a wide role as a back striker, while Giroud will kick higher, closer to the penalty area, to take advantage of his ability to run away from the ball well.
Most recently, in the friendly matches before the season, Giroud partly proved his good integration by scoring 3 goals, of which 1 goal was scored in a 1-1 draw with Nice, 2 goals. the rest scored in the net of Panathinaikos. The common point of all three goals mentioned above came from long ball situations towards the opponent's penalty area, where Giroud made good use of his physical advantage and ability to choose the position to score. It is certainly a piece that will be used a lot by Stefano Pioli in the new season.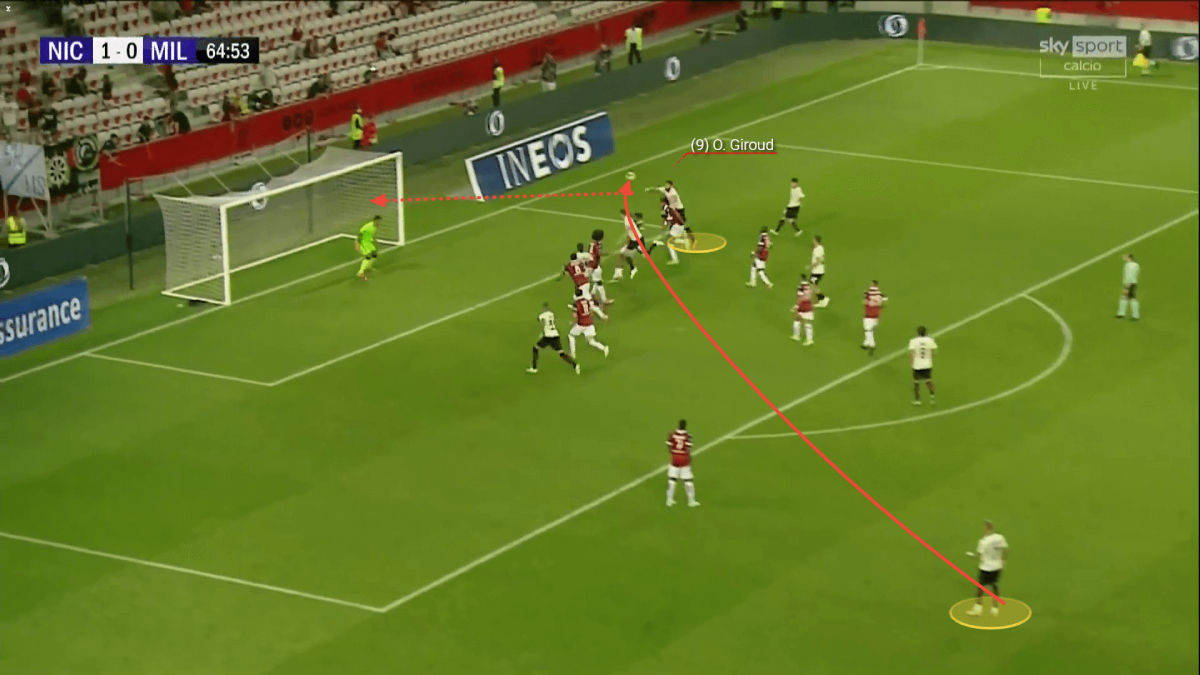 Giroud is extremely powerful in situations where he hangs the ball long into the penalty area
Currently, with the main striker Ibrahimovic still in the treatment phase of an injury and expected to return only at the end of September, Giroud will definitely be the number one choice in the striker role in early season. It is an opportunity and also a great challenge for him. But with his impressive scoring form in friendlies, it is believed that Giroud will be an important factor in Milan's campaign in the new season.
After Ligue 1, Premier League, now Serie A will be the tournament for Giroud to continue writing in the diary of his career.


Source link: https://bongda24h.vn/nhan-vat/olivier-giroud-toi-milan-khong-phai-de-dao-choi-389-291837.html