Asia Sport
Comments on Brest vs PSG French National Championship at 2pm today 21/8
Friday 20/08/2021 13:01(GMT+7)
Brest vs PSG at 2:00 p.m. on August 21 (3rd round of the French league Ligue 1 2021/22): Expert opinion, result prediction, professional analysis, football rate information, previous sideline statistics match.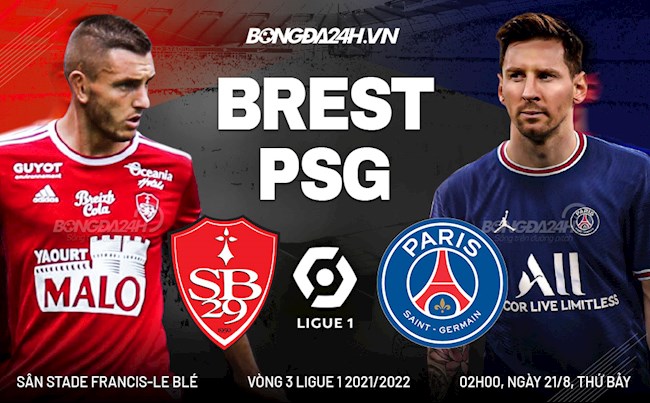 Brest vs PSG
Two seasons ago, PSG had a bad start: winning only 1/3 of the first round. As a result of last season, they were deposed from the throne by Lille and in the 2019/20 season, PSG were recognized as champions when Ligue 1 was forced to end from round 28 due to the Covid-19 pandemic.
Of course, the "rich guy" of Paris doesn't want that scenario to happen again. The first two rounds, they earned 6 absolute points but only ranked 3rd due to the inferior difference compared to the two teams ranked above. Now, PSG are aiming for their third consecutive victory to really have a perfect start.
Marching to Brest's yard. PSG still lacks many pillars, most notably "super rookie" Lionel Messi. According to many sources, there is no guarantee that the Parc des Princes home team will enter Messi's name on the list of matches, although the Argentine legend has recently gone to the field to practice normally with his new teammates.
Many other faces who have played in the finals of Copa America 2021 and EURO 2020 (Marquinhos, Neymar, Leandro Paredes, Angel di Maria, Marco Verratti or Gianluigi Donnarumma) are likely to be absent or only come on from the bench by them. not tired yet. Therefore, PSG will have to rely a lot on Kylian Mbappe, the star that can make the biggest difference for PSG if the names above are absent.
After the first 2 rounds, the French striker contributed 1 goal and 2 other assists. Not only that, Mbappe is also very charming with Brest when the last 3 times he played against this opponent, he scored 3 goals and provided 2 assists, making a big contribution to helping PSG win.
On the other side of the front line, Brest got an encouraging result from the beginning of Ligue 1 2021/22: both drew Rennes vs Lyon, two strong opponents, with the same score of 1-1. However, PSG is on a completely different level, at least with Brest when the last 10 confrontations between the two sides, PSG won 9 and 6 of them had a difference of 2 goals or more.
This match, PSG conceded 1 3/4, not the highest in the clashes between the two sides, but the last 2/3 times that Brest accepted this level, PSG surpassed the Asian ratio. In addition, the last two matches 1 3/4 handicap, PSG also eat both expertise and Asia. At the end of the game, a goal can appear when the last 6/7 confrontations, the last 8/11 matches of Brest and the last 10/13 matches of PSG have at least 1 goal scored from 71-90 minutes.

Brest vs PSG ratio
Notable Stats Brest vs PSG
– PSG won the last 8/9 away matches in Ligue 1.
– PSG scored at least 2 goals in the last 7 matches against Brest in all competitions.
– PSG scored at least 2 goals in the last 8/9 matches in Ligue 1.
– Brest did not win the last 6 home matches in Ligue 1.
– At home, Brest lost 6 and drew the last 2/9 matches according to Asian rafters.
– According to Asian rafters, Brest lost the last 6/9 matches, and PSG won 6/8 of the last confrontation between the two teams.
– Brest did not win against PSG in the last 16 confrontations in all competitions, of which the last 9 matches were all lost. Even, PSG also kept a clean sheet in the last 3 matches and scored at least 2 goals / match.
Estimated XI Brest vs PSG
Brest: Bizot, Pierre-Gabriel, Chardonnet, Brassier, Uronen, Belkbela, Mbock, Honorat, Faivre, Cardona, Mounie.
PSG: Navas; Hakimi, Kehrer, Kimpembe, Diallo; Wijnaldum, Pereira, Herrera; Draxler, Mbappe, Icardi.
Predict the result of Brest vs PSG: 1-3
Brest vs PSG Stats

Head to head Brest vs PSG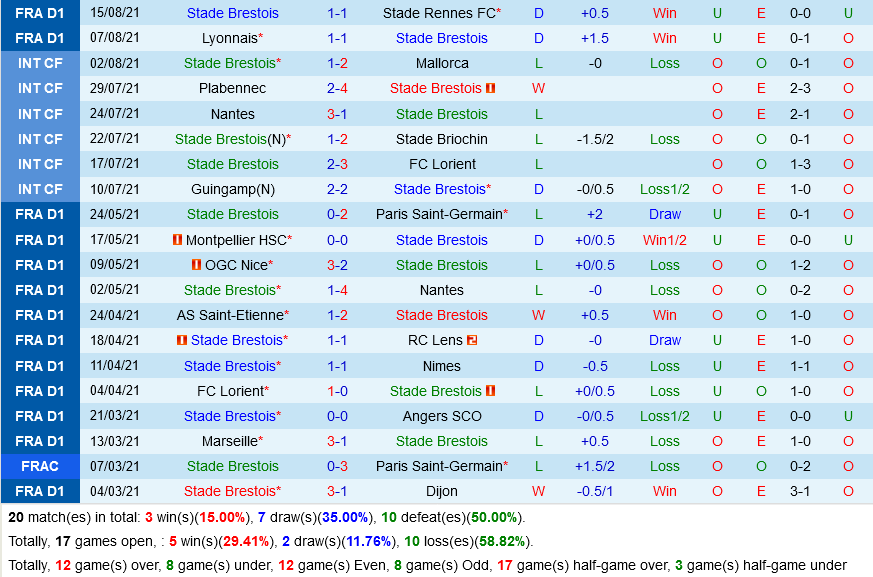 Brest's recent achievements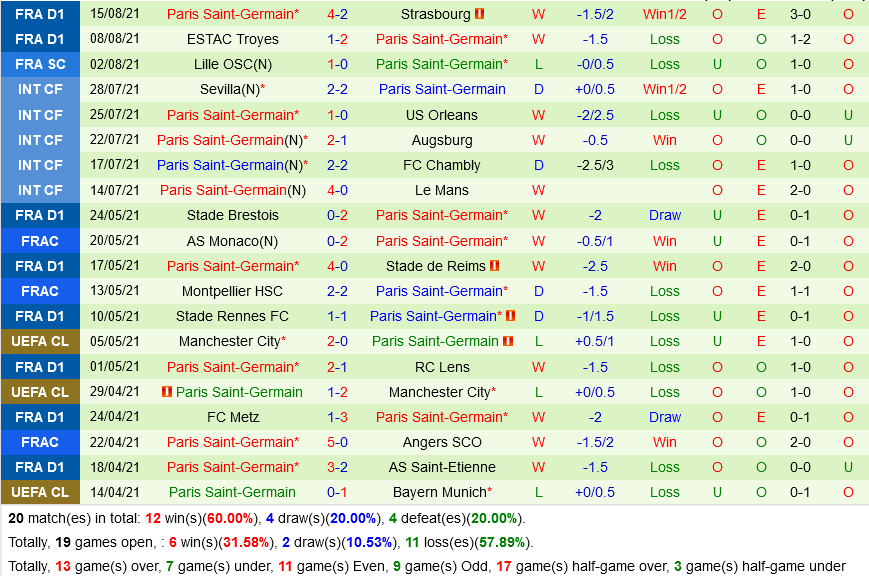 Recent achievements of PSG


Source link: https://bongda24h.vn/nhan-dinh-bong-da/soi-keo-brest-vs-psg-vdqg-phap-hom-nay-344-291892.html