Kevin De Bruyne himself negotiated to bring himself a new contract with the desired salary. Joshua Kimmich actively fired his agent because he wanted to take responsibility for his own life and career. Are these signs that the agent in football is losing his voice?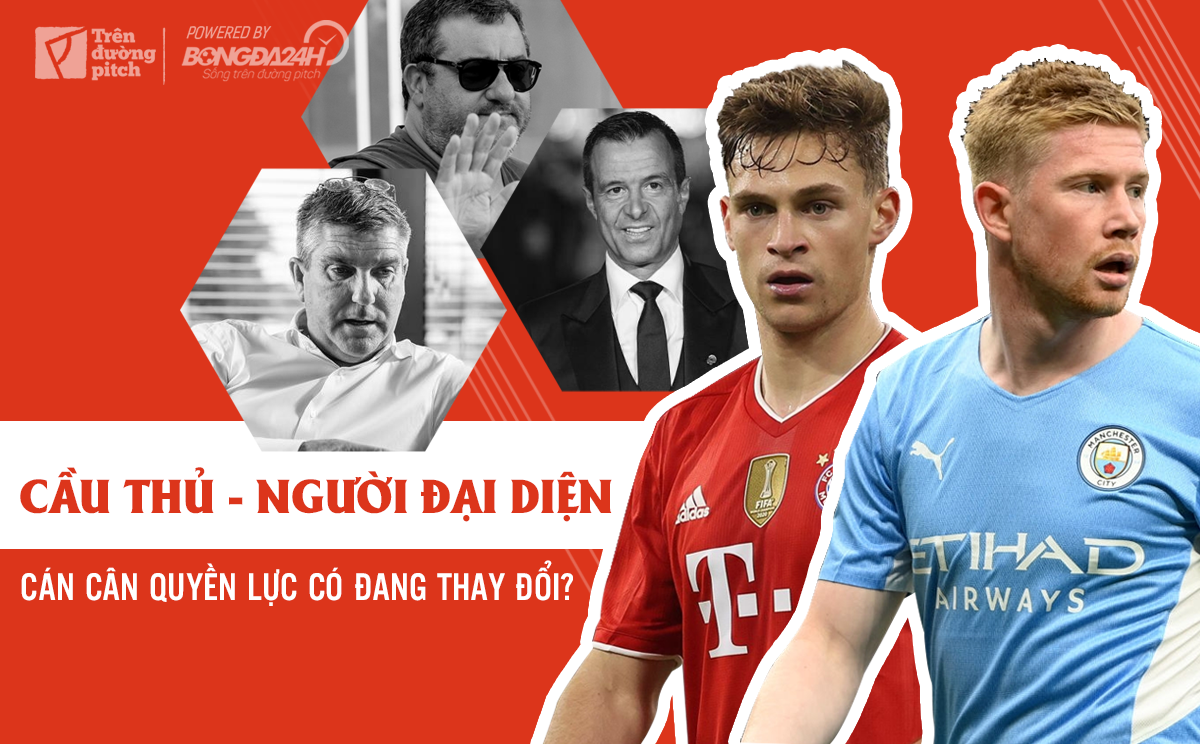 Photo: Bongda24h.vn
Last April, Kevin De Bruyne sat alone in the meeting room with Manchester City. His father and attorney were connected to the deal online via facetime, but his longtime agent, Patrick De Koster, was not. He was detained by Belgian police after a financial dispute related to the contract between his client and the Wolfsburg club. Kevin De Brune's only request in this meeting was for a raise and he achieved his goal. What is interesting and also very surprising is that the Belgian player solved all the problems on his own without the need of an agent.
"Agent" is a concept that is no longer strange to football today. They are persons who enter into transactions on behalf of and for the benefit of another person within the scope of the agency's authority, including acting on behalf of a negotiation or agreeing to an agreement with a third party. The idea of ​​​​the representative in football, although not completely new, has not really had a long history. FIFA only officially recognized the appearance of representatives in 1994.
As of 2002, the number of licensed representatives was still relatively modest: 179 in the UK, 82 in Germany and 54 in Italy. However, their role and importance has changed rapidly in recent years. The player agent has become one of the most vocal figures in the modern football world.
The 1995 Bosman ruling completely changed the football transfer market and ushered in a new era for transfer fees and player wages. Chris Sutton was the first UK player to receive £10,000 a week in 1994. Seven years later, Sol Campbell was the first star to sign a contract with a salary of £ 100,000 a week. At this time, it is very normal for a player to receive a weekly salary of several hundred thousand pounds.
According to Forbes magazine, Lionel Messi even received nearly $1.2 million (£870,000) a week when he moved to PSG. When the numbers continue to increase at such a dizzying rate, the need for player representatives is also inevitable.
Football fans are probably too familiar with the two names Mino Raiola and Jorge Mendes. Although the styles are different, these are all extremely powerful (if not the most) powerful figures in the world of player representatives. Mino Raiola was too famous for stories about Paul Pogba, Erling Haaland, Gianluigi Donnaruma or before that Mario Balotelli and Zlatan Ibrahimovic. It is no coincidence that a series of players who are considered personalities have consistently followed Raiola's advice.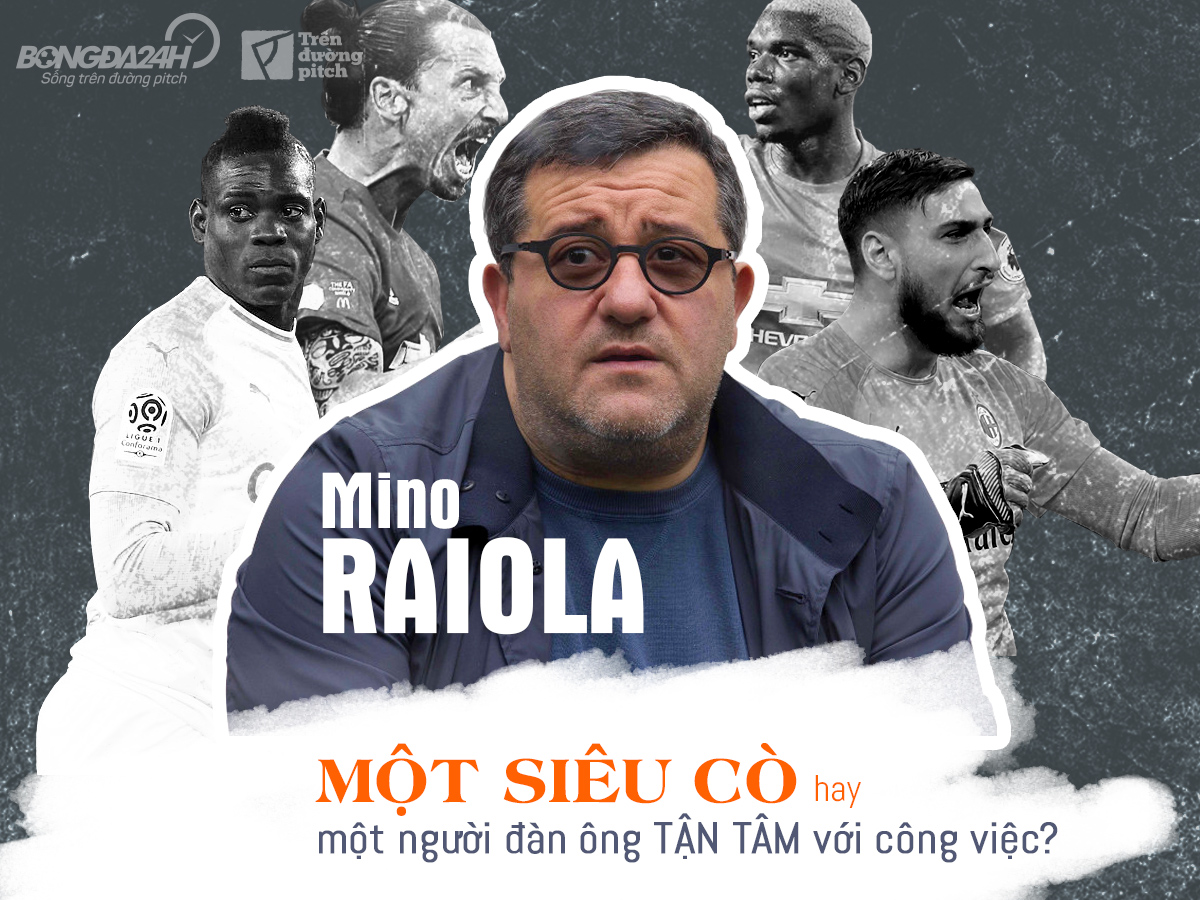 Mino Raiola was too famous in the football world when many famous players came to him. Photo: Bongda24h.vn
"Super stork" with two Italian and Dutch blood may be a "thorn" in the eyes of clubs, but he is a guarantee of benefits for his clients. In return, Raiola will receive a well-deserved commission. According to a recent study based on data from Forbes magazine, Mino Raiola received an average of £796,000 per successful transfer.
Contrary to Raiola, the image of a gentle and elegant Jorge Mendes easily makes people more sympathetic. From a nightclub owner in Lisbon, Jorge Mendes has become the most famous name. He built his own power network in Portugal and many foreign clubs have Portuguese players at the core. Last year, when clubs all tightened spending because of the pandemic, Mendes still made a profit after the deals of Ruben Dias ($80 million), Diogo Jota ($53 million) or Matt Doherty ($20 million).
Before that, he also received $ 35 million from bringing Joao Felix to Atletico Madrid. Financial Times journalist Simon Kuper called Jorge Mendes "the invisible hand in the transfer market", and Pippo Russo – author of a book on Mendes' career journey – described his "empire". Jorge Mendes is completely immune to COVID as if he had his own vaccine."
Overall, the agent is responsible for nearly every aspect of a player's life. From contract negotiations, agreements with sponsors, public image building to financial plans. All commercial activities of a player are also through an agent. In return, they will receive from 5 to 10% of the profit. Many representative companies also offer package services. They will take care of everything from az to help their clients focus on playing football.
In September 2020, Mr. Patrick De Koster – Kevin De Bruyne's longtime representative – was arrested after being accused of money laundering by his own client. Therefore, De Bruyne has become a player without an agent. To start the process of negotiating a new contract with Man City, instead of looking to one of the largest agencies in the world, Kevin De Bruyne decided to represent himself.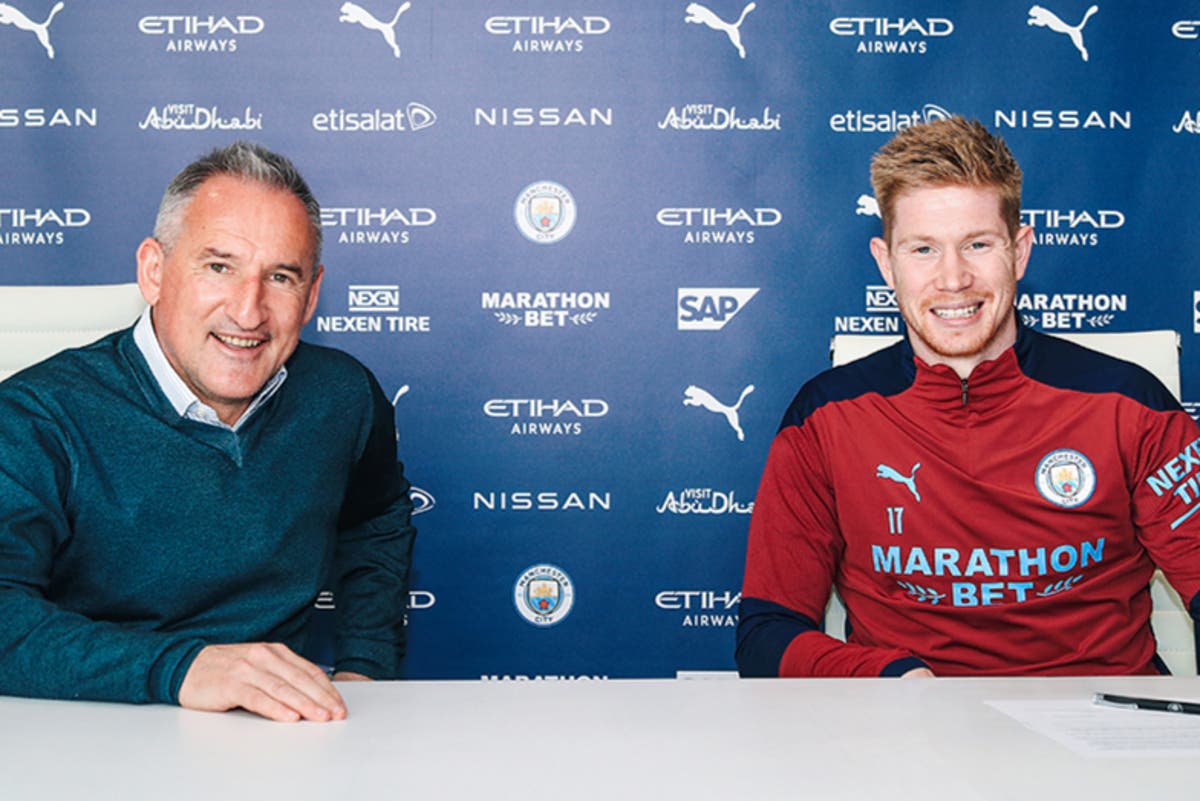 Kevin De Bruyne himself negotiated a contract with Man City without an agent. Photo: Manchester City
All bad beginnings. The first offer from the Etihad Stadium team will cause De Bruyne to reduce his salary. In response, the Belgian midfielder hired Analytics FC – a company specializing in data collection and analysis – to produce a report highlighting his importance in Man City's success. Numbers never lie and it is a convincing enough argument for the team's leadership to accept the salary increase request that Kevin De Bruyne deserves.
Agents believe that their bargaining power and relationships are the only way to benefit their clients. De Bruyne proved otherwise. Kevin De Bruyne's successful negotiation with Man City is considered an important milestone marking a major turning point in the relationship between the player and the agent. Moreover, the talented Belgian midfielder also raises questions about the true definition of a modern player.
If Kevin De Bruyne agreed to the contract himself, Joshua Kimmich of Bayern Munich also actively fired the agent. When asked about this decision, the German player shared: "Last year, I considered everything carefully. I want to represent my values, opinions and more. I also want to take responsibility for my own life."
When a player takes on more responsibility, he is re-evaluating his mentors. At the same time, they are also building what is known as a "circle of trust". Mohammed Salah recently replaced his former agent with Ramy Abbas Issa – his lawyer and longtime friend. They first met when Abbas was still acting as a translator for the Egyptian star's former agent. Salah and Abbas quickly became close as they both spoke the same language.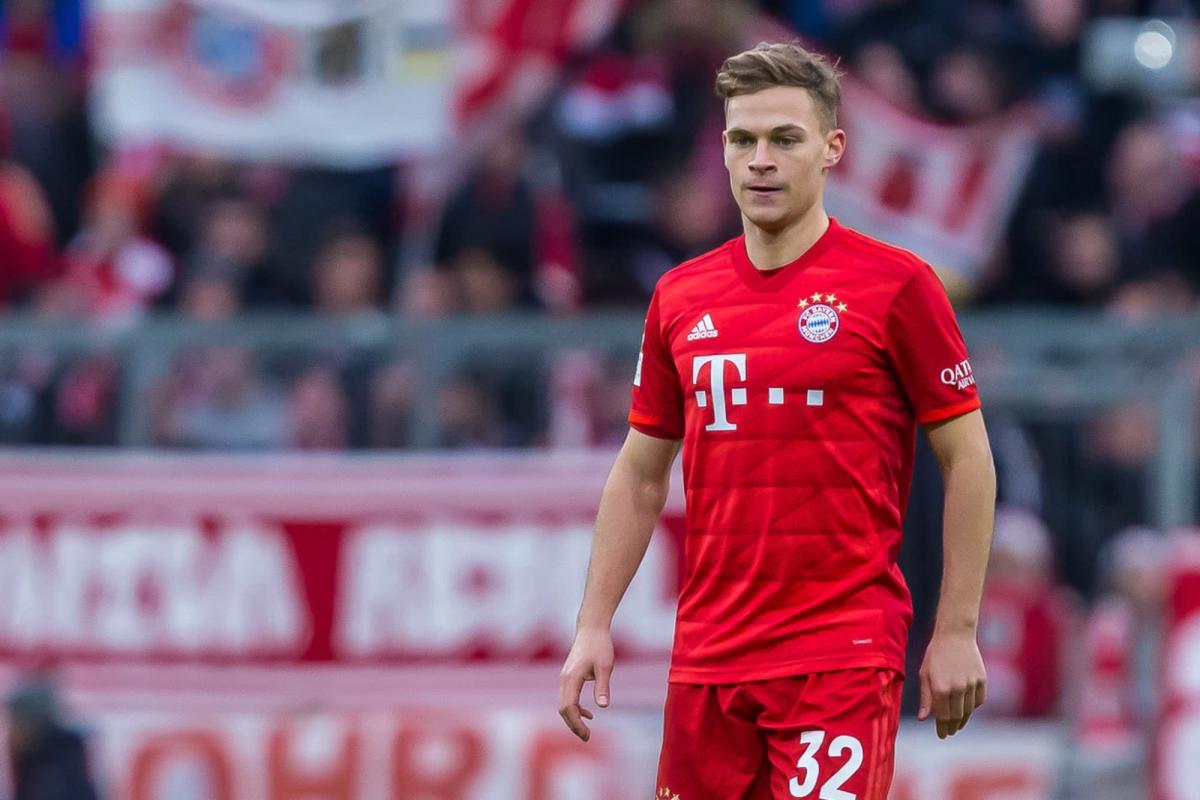 Joshua Kimmich fired his agent because he wanted to represent his own values. Photo: Getty Images
When trust becomes the key issue, it's not surprising that more and more players are choosing friends or relatives as their agents. Besides, money is also the reason why representative companies are gradually losing points. In 2019 alone, the amount included in the "agency fee" amounted to $653 million. Players begin to wonder if their agent's negotiating skills are really worth spending 10 or 15 percent of their salary.
"I am happy in Manchester. Right now, I'm participating in the talks myself. I wanted to continue to stay, so everything went quite smoothly. Things may be different if I intend to leave, but because I want to stay at Man City, it is not too difficult," Kevin De Bruyne said about the process of working with the Man City leadership.
Of course, the case of Kevin De Bruyne or Joshua Kimmich is not a sign that the agent is out of date. Many players would not be as successful as they are today without the shadow of an agent by their side. However, this is also a warning bell for player representatives about their growing demands.
FIFA has also proposed legislation to limit agent fees to 3% of players' weekly wages and introduce a new licensing system to control the number of agents. In other words, the value of the agent needs to be seriously weighed to match the huge amount of money they pocket each year.


Source link: https://bongda24h.vn/nhan-vat/cau-thu-nguoi-dai-dien-can-can-quyen-luc-co-dang-thay-doi-389-291850.html